Vespa scooters have been known for their painted, pressed steel unique body shape which combines, in a unified structural unit, a complete cowling for the engine. This is an Italian bike. The bikes of Vespa brand are imported from Italy. The extra-ordinary features of this bike is aggressive and classy looking of this bike easily draw the sight of most bike riders.
Vespa Elegant 150
The front section features classic round headlights with the silver colour casing, the bike is categorised by the mirrors and levers. It has a red colour seating position and retro looks from the past which makes it stand out from the rest. The front indicator lights look like a unique design along with V-shaped grill. This bike is actually scooter category bike. The bike is available in the market with classy prices.
Engine and Transmission
The Vespa Elegante 150 gets 154.8 cc powerful engine which is four-stroke, air-cooled and carburettor-fed, and it has three-valve heads. Along with that cylinder head it has an aluminium and additional technologies like overhead cam, roller rocker arm, and which has map sensing and variable spark timing management are also embedded. This engine can generate 11.6 BHP of peak power at 7,000 rpm and peak torque of 11.5 Nm at 5,500 rpm.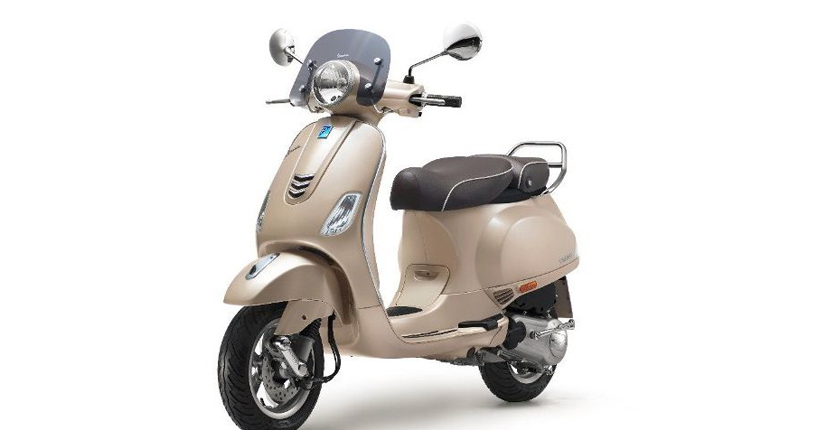 [--12/8 Width--]
Feature and Safety
The great thing is! Vespa Elegante 150 has the ABS facilities with single chain system. The speedometer is analogue but the tachometer and the odometer are digital. But there is a matter of sorrow that there is no trip meter in this bike. The bike has the pass light and the passenger footrest has also here. The bike is light in weight so, this is full of safety. You can easily ride on this bike without any hassle. In the aspect of long-distance bike riding the bike will give you the extra benefit. You need not worry about your safety because the bike will give you assurance for your safety.
Tyres and Wheels
Instead of ring spoke it has 5 spoke alloy wheels which adds premium feel to the scooter. It has 11 inches of front wheel while the rear one is 10 inches and has a presence of grab rail is a major bonus here and unique rear tail light and indicator light design. Tubeless tyre of this bike Talking about the build quality of paint, plastic, switchgear, steel body etc is top notch and has premium touch everywhere.
Chassis and Suspension
The bike has the Monocoque Steel High Rigidity Structure of chassis and the suspension of this bike is very well. Hydraulic double-telescope type suspension is used to this bike. But it has a slide variation in the respect of rear suspension type. The rear suspension type of this bike is hydraulic and it is shock absorber type.
Headlight and Tail light
The bike has halogen type headlamp and LED tail lamp has been used to this bike. The other side signalling's light of this bike is bulb type. The headlight is very much powerful. You can see the road even in the dense frog situation. It may help you to avoid the uncertain accidents.
Conclusion
The vespa group of bikes has been offering us the best quality premium bike with dashing services. Vespa Eelegant is one of them. This bike is easy to ride and very enjoyable. The bike will allow you to smooth driving and safely driving. Are you ready to buy this bike?