Motocross is the brand of China that has launched its motorcycles in Bangladesh at a favorable price. Their products based on powerful engine category and they have launched several numbers of models of dirt bikes in the country. But in Bangladesh, dirt category bikes are not very popular and it's very rare to see someone riding a dirt bike on the road of the country. This is a new featured bike that is giving the best quality service.
What's New on it?
Motocross Fighter 150 is a complete dirt bike category bike considering the distinct design. But it looks like very strong in shape. Though fuel tank is a little small but wide and capable of holding a standard amount of fuel, Seat and suspension is not like other dirt bike but long and comfortable enough to ride on it. It has a well-designed silencer pipe. Besides, it has a unique headlamp and tail lamp also quite distinct and the dual brake, tyres are not so wide but can grip very well even on wet roads. The wheels are spoken instead of alloy. Overall, it is a strong dirt bike and you can be also used for general purpose.
Engine Specifications
Motocross Fighter is powered by 149.4 cc engine displacement which generates 8.3 kW at 8500 rpm max power and 10.5 Nm at 7500 rpm max torque. The bike has a powerful engine and the engine is air-cooled and four strokes including two-valve technology. It has a five-speed gearbox and the total number of gears of the bike is five and also which is manual. The top speed of Motocross Fighter is 125 kmph which is truly reported.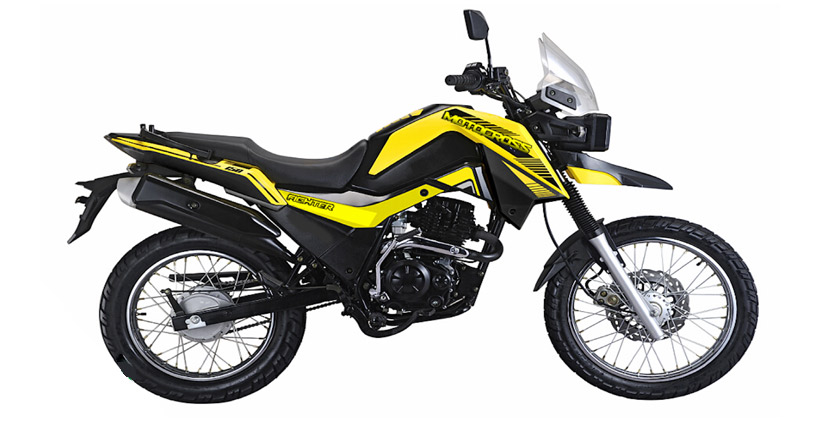 [--12/8 Width--]
Dimensions and Seating Position
The dirt bike Motocross fighter 150 is quite decent in size which is 2080 mm long, 860 mm wide and 1270 mm high. Besides, the size of the wheelbase is 1365 mm and also has a very good ground clearance that may you on the roads specially made for rough roads. The weight of the bike is also standard and heavy which is 127 kg. Though it has a small fuel tank but can contain 15 liters of fuel along with 2 liters reserve capacity.
Suspension and Brakes
Generally, a dirt bike's most important part is its suspensions. Because it's best for rural and rough roads. In that case, the bike will help you because Motocross Fighter 150 has front telescopic suspension and rear mono-shock absorber suspension which may lead you to a smooth driving experience. Besides, they have attached the front hydraulic brake and rear drum brake for getting the best riding experience.
Riding Experience and Mileage
The riding experience of this bike is very smooth. At the very beginning of riding, I was surprised about the smoothness and the class of riding. There is a common fact that dirt bikes give low mileage than standard commuter for having a powerful engine. The average mileage of the bike is not so bad actually and the mileage average is 40 km which seems almost alright.
Conclusion
I must rate the bike 4.9 out of 5 because this bike is quite better from the other bikes. Most of the bike lovers have rated this bike at a high amount and their reviews are also positive. As a standard feature, there are added like powerful 12 V battery, fuel gauge, speedometer and rpm meter. You are advance most welcome for buying this bike.