Recently a new Chinese motorcycle brand has come to the local market named KIDEN. Their products are latest with their style, design, features and according to the need of the users these products can be successful if their performance remains good as well. They are launching a few of their quality bikes for our country, and KIDEN KD150-K bike is one of them. This 150-cc bike is a premium category motorcycle of KIDEN and also well featured. Today I am going to check the bike and write a review on it.
Design
KD 150-K has the robust sized fuel tank design which gives this bike cruiser shape with a great outfit. This bike has the perfect combination of colour, beauty, and aggressiveness that make the bike so-called outstanding. Fresh front headlights and the good shape of tail light make the design sporty and fashionable. Having the extra-ordinary design, the manufacturer claims that it has both the characteristic of Harly Scooter and racer bikes. There is an interesting thing; this bike's outfit is its head portion which doesn't contain a single screw and it shows the sense of completeness and delightful of technology. Overall, colour combination and great body framework complete the perfect design of this cruising bike.
Dimension
Better dimension along with better suspension gives the bike best riding ability and at this side, this bike has an ideal one. The length of this bike is 2014 mm, 750mm width, while the seat height of this bike is 760 mm. The bike has featured with a 1296 mm wheelbase, 170mm ground clearance, and 113 kg overall weight. Because of this type of dimension, this bike permits you to ride on it and it offers a particular design with a great finish.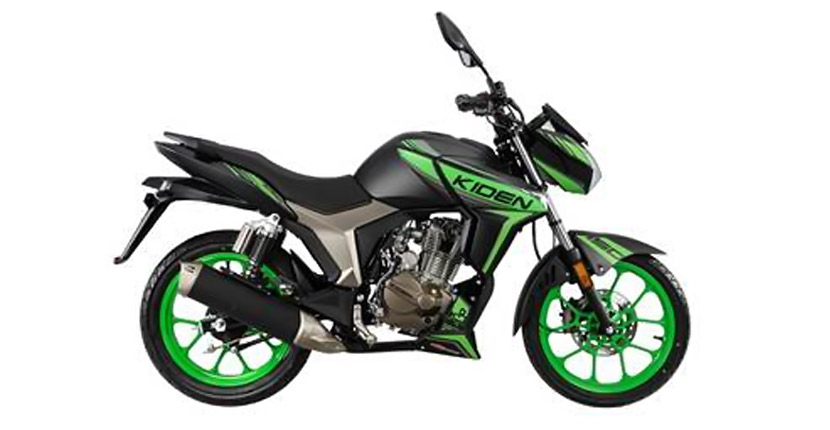 [--12/8 Width--]
Engine Specifications
This bike from Kiden is furnished with special and powerful engine. 150cc Single cylinder, wind cooling engine along with inner camshaft type engine which can produce 10.0 Kw at 9000 rpm max power and 11.5 Nm at 7500 rpm max torque. This engine has standard stroke-bore ratio along with 9.8: 1 compression ratio and because of carrying TYS built-in balance shaft.
This engine is fuel-efficient enough to let you enjoy comfortable and fun driving. According to the company notification it is superb at any location, or midway overtaking, high-speed driving and so on can give the users less vibration. Because of smoother and silent riding riders, the bike creates the feeling of more comfortable. This type of engine can be started quickly and it has both kick and electric starting methods to start up the engine.
Electrical and meter panel
This bike contains all the electrical features with its style and design. It has a new shape of the halogen headlamps along with LED position lights. It has high enough brightness and holds a long service life; the modern technology LED taillights, front and rear LED turning lamp, 12 V maintenance-free batteries.
Attractive New Added Features
- Robust fuel tank with classic design
- Unique headlight feature and LED rear tail light
- Perfect combination of bodywork and fuel tank
- Widen body and thicken cushion
- Powerful engine, driving without worry
- Durable, stable and reliable enclosure
- Dual row oil passage, quick starting
- Gear indicator, efficient and durable
Last, of all, it can be said that undoubtedly you can buy this bike within your favorable price. The bike will make your journey very much enjoyable and comfortable.