Znen T6 V3 150 is a scooter made and assembled by a Chinese brand named Znen. This is a sports scooter that becomes popular with the scooter lovers of Bangladesh. This bike has a stylish design with different colors like metallic black, metallic white, metallic blue and metallic red. This is a luxurious scooter at an affordable price. This bike has a comfortable sitting position and riders will not get back pain during a long drive. The scooter has a sharp edge cutting design with a dynamic look.
Engine and Transmission
This bike gets power by a single-cylinder four-stroke petrol engine. The cooling system of this engine is an air cooling system. This engine has a maximum power of 12.9 kW 8500 rpm and maximum torque of 12.5Nm at 5500 rpm. You will get both electric and kick starter on this bike. This bike has an automatic transmission system as well as an automatic gearbox. The fuel of this scooter is supplied by the carburetor. The engine of this scooter has a total displacement volume of 149.6 cc and this scooter is driven by a chain. The engine of this scooter has a widely used automotive electronic ignition system named as Capacitor discharge ignition (CDI) system.
Mileage and Performance
This 150 cc scooter is more popular to the scooter lovers for its good performance rather than its higher speed. This powerful 150 cc scooter will give you a mileage of 45 kmpl. Besides this, the bike has an unbelievable maximum speed of 130 kmph. As a sports scooter, this bike is really good for its easy and comfortable sitting position. This bike has a kerb weight of 113 kg which gives good stability to the riders.
Electrical Features
You will get a 12 V maintenance-free powerful battery. Znen T6 V3 150 bike has a 35W headlight. X shaped LED taillight will help you in riding but there is no pass light on this bike. This bike also has turn signal lamps. This bike has a speedometer, tachometer, and fuel warning indicator. A low fuel indicator will remember you to charge fuel. But this bike has no low oil indicator. As the scooter has auto gearbox so the gear indicator is absent in this bike.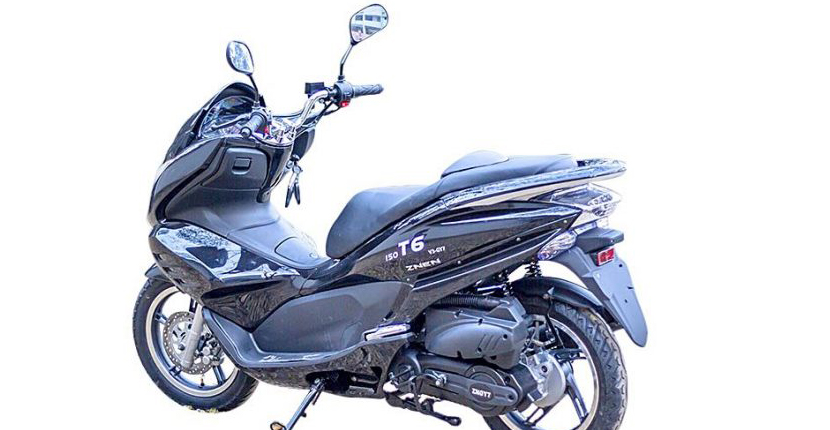 ​​​​​​​

[--12/8 Width--]

Brakes, suspension, and Tyres
You will get a good control system for this scooter. Control of a bike mostly depends on its braking system. For this reason, disc brake is used in the front wheel and drum brake in the rear wheel. The front tyre size of this bike is 90/90-14 and the rear tyre size of this bike is 100/80-14. The rear tyre is wider than the front tyre. The bike has telescopic front suspension and twin shocks rear suspension which provides a smooth-riding. The wheels of this scooter are made with Alloy.
Conclusion
The users of Znen T6 V3 150 scooters are satisfied with the performance of this bike. As it is a sports scooter, it's designed is attractive to the scooter lovers of Bangladesh. The 150 cc scooter will give you 8L fuel capacity. Though it is a scooter, its performance is also like a bike. The body graphics of this bike is also attractive and good looking. The scooter has an affordable price tag of this bike is very affordable.