Suzuki Motorcycle India has recently launched a 154.9 cc cruiser, borrowing structure and design inspiration from the bigger Suzuki Intruder M1800R. The new Intruder gets the same engine features, chassis and suspension as the 155 cc Suzuki Gixxer. Is it not good enough to ride on it? I spend some time around the undulated roads of with the new Suzuki Intruder to seek some answers to give the first riding review on it.
What is it?
The new edition of Suzuki Intruder is a 154.9 cc cruiser motorcycle, with a very distinctive and fascinating design. Going along with the cruiser credentials, the riding position is quite relaxed and stretched out with forward-set footpegs for feet-forward riding experience. The handlebar is wide enough to ride on and feels quite compact once you swing a leg over the bike. It might be styled with distinct cruiser elements, but the bike's ergonomics are designed keeping in mind the daily commute and easy riding in and around the busy city.
What about the Engine
Looks are dashing and quite stylish to ride on it, and nothing is further from the truth than the Suzuki Intruder's classic design. Look at the motorcycle from different angles, and it certainly looks fascinating, even attractive. In fact, to me, the front and rear suspension end certainly looks the part of a premium cruiser, with those big bike aggressive looks. Side by side it's the rear end which looks garish and overdone, be it the fat tail section or the massive one-into-two upswept exhaust system. Talking of which, if you make a trip to long distance ride on this cruiser, that upswept exhaust also doesn't leave any room to mount a pair of saddlebags.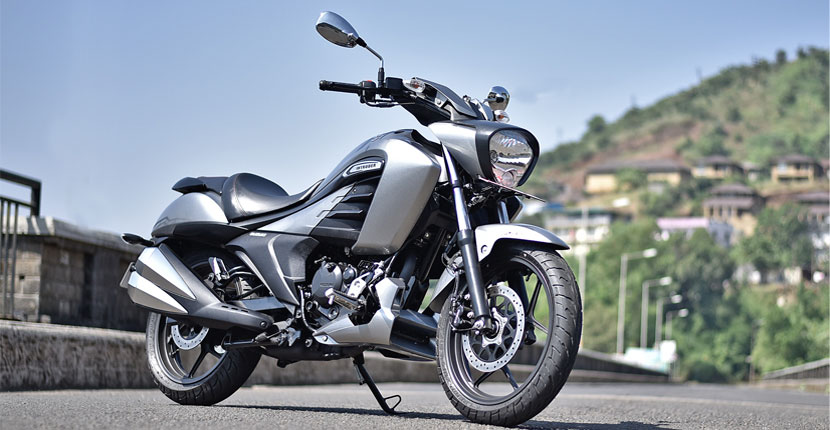 ​​​​​​​
[--12/8 Width--]

How does it Perform?
The SuzukiIntruder150 Fi ABS 154.9 cc engine is a classic and smooth engine along with a nice torque band with impressive quality and refined performance. And the best thing about this engine is that it doesn't feel stressed out while rising a long run, and the throttle pinned open instantly. For this reason why this motorcycle is carried over to the new Suzuki Intruder's personality as well. So, full positive performance on this bike marks there! Ride it now and the Suzuki Intruder makes for an entertaining performer. The kerb weight is 148 kg , or even it gains 8 kg over the Suzuki Gixxer, but it still feels light and nimble on the move.
Fuel Consumption Rate
The fuel containing capability of this bike is 11 Liter and you can easily ride on it around 700 km with the full tank fuel. The Fuel injection system has been used to this motorcycle. The robust fuel tank has added some aggressive nature to its actual looking. I think the mileage quality of this motorcycle is so poor. But the big sized fuel tank support rider to enjoy the long journey with the full tank of fuel.
Comfort and Safety
This is a damn good bike for hasslefree, smooth, calm, effortless, injury less, fuel-efficient, comfortable cruising bike. Lack of extra leg guard and hook for holding luggage are serious drawbacks. Overall, I will rate this bike 4.8 out of 5 and I am saying that it is the best among cruisers after testing all the rest. The test drive is essential to get this marvelous piece of engineering before buying for any other bike in the market.
This bike actually will give you the marvelous feeling of bike riding. The height of this motorcycle also fit for all types of people. The robust body shape of this motorcycle makes it quite distinct from other motorcycles. I think you should buy this motorcycle and get the real opportunity to gain an entertaining feeling of bike riding.