The Samsung Galaxy A80 is an Android smartphone flagship features there to better differentiate the A-series manufactured by Samsung Electronics that combines old and new designs to solve as part of its fifth-generation will introduce unique or Galaxy A-series lineup. It was launched at the Samsung Galaxy Event in Bangkok, Thailand on April 10, 2019, and released on May 29, 2019, it happens to be the first smartphone to launch with a slider mechanism along with the rotating camera.
Display
The phone comes games come to life on New Infinity Display with a 6.70-inch touchscreen display a near bezel-less, full-frontal, edge-to-edge screen with a resolution of 1080x2400 pixels. Samsung Galaxy A80 is powered by a 1.7GHz octa-core Qualcomm Snapdragon 730G processor that features 2 cores clocked at 2.2GHz and 6 cores clocked at 1.7GHz the high-quality notch-less screen you get as a result It comes with 8GB of RAM and Galaxy A80 does not look like an everyday phone with sporting a large near bezel-less display.
Camera
Samsung Galaxy A80 is built for the Era of Live with the 48MP Rotating Camera, A 3D depth camera and the 8MP ultra-wide camera capture, share, and see stories as they happen, and stay live features a 48-megapixel primary sensor with an f/2.0 aperture, a secondary 8-megapixel camera with an ultra-wide-angle lens (123-degrees), an f/2.2 aperture it has been designed specifically for users who want to share live interactions so Samsung presented a rather unique and at the same time odd proposal to solve both of those in the Galaxy A80 that combines popup cameras.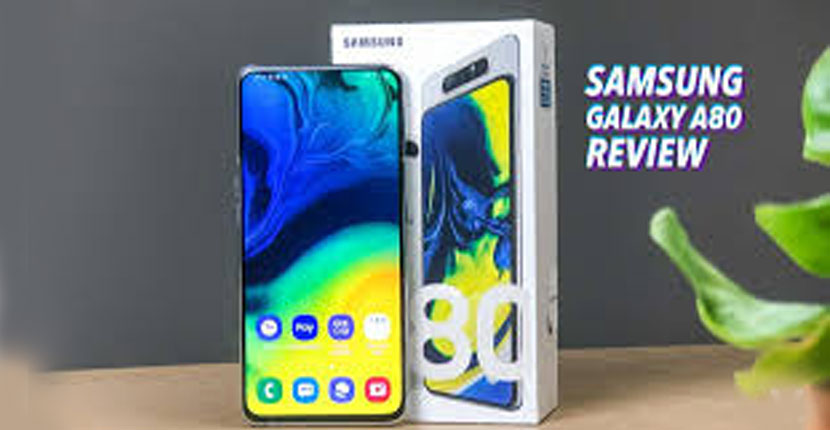 ​​​​​​​
[--12/8 Width--]

Performance
Galaxy A80 is the phone that's up for the challenge it is Samsung's most premium offering in the Galaxy A. The Intelligent Performance Enhancer recognizes your mobile habits and optimizes the powerful Octa-Core Processor but Based on the Qualcomm Snapdragon 730 chip, which sits just below the flagship 8 series chips and 8GB of RAM so you can stream, game, and use your phone with incredibly high performance.
Battery and Connectivity
The Samsung Galaxy A80 runs Android 9.0 Pie and is powered by a 3700mAh battery and the 25W Super Fast Charging technology that lives to tell the tale. In terms of a wired connection, headphones or speakers can also only be connected and connectivity options on the Samsung Galaxy A80 include Wi-Fi 802.11 b/g/n, GPS, USB Type-C, 3G, and 4G with active 4G on both SIM cards with Hearing aid compatibility.
Overall we can say The A80 requires to put down almost twice as much money as a Galaxy A70 but at the same time, it seems pretty innovative with its pop-up and twist cameras. You get the rotating and sliding camera, a faster processor, and a no-notch screen, but you have to compromise with a smaller battery and high-class Galaxy A80 smartphone is a quite large and also heavy device