Are you looking for the best quality bikes? If so, just stay with this article because from this article you may know about the best quality bike in Bangladesh with your limited budget and the kiden KD is here to give a better solution to your problem. The kiden KD has recently launched a bike name by kiden KD 150 H. This bike in popularity of this bike is increasing day by day for its standard features and premium performance and you can try this bike to enjoy the best quality riding.
Design with Looking
This bike is quite different and distinct from other bikes. The riding position and the suspension quality along with the graphical design on this big fuel tank add some extra beauty to this bike and the mono suspension system will give you the best riding experience even it is the rough village roads. Are you ready to buy this bike? The engine performs very well and it has a powerful engine and the engine displacement of this bike is 150 cc. It is an air-cooled single cylinder 4 stroke engine. It can claim 125 kilometers per hour speed within a few seconds and the maximum torque of this bike is 11.6 at 8000 RPM.
Dimensions and Seating Position
The bike is standard according to its dimension. The length of this bike standard and the height of this bike are very low so any people can ride this bike easily. And the sitting position of the bike is very comfortable along with the classic suspension system. The rear suspension system is telescopic and the front suspension system is mono-shock and both of these suspension systems will make your journey very comfortable.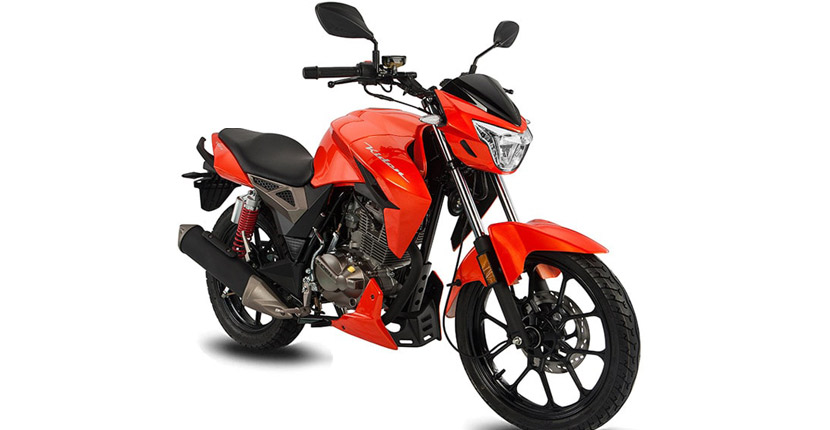 [--12/8 Width--]
Mileage Performance
Mileage of the bike Kiden KD150 H is not so good, this bike can be ridden 40 km with 1-liter fuel and I think that is not enough. But the big fuel tank can hold about 13-liter fuel and that is enough to go for a long trip with your family members. But on the highway, the mileage average of this bike can be raised to 50 kilometers per liter.
Electrical Features
The bike has a standard quality headlamp and taillight and there is a facility of low fuel indicator and it has both electric and kick-starting systems. They have used through this bike 12-volt battery and the battery type is MF but one thing is missing; the bike has not ABS. It would be quite better if the bike has standard quality ABS. Another surprising matter of this bike is; the bike has 5 spoke aluminum alloy wheel system and tyres of this bike are made of tubeless.
Conclusion
Red, White and Black colours of this bike are available in the showroom and you can buy one of these and personally I love the red one. The price of this bike is quite favorable to afford it. I am recommending you to buy this bike and get some extra enjoyment of your bike riding. It will meet up your dreams about bike riding. Don't be late buy this bike and enjoy the better riding experience.