Znen VISTA is a luxurious scooter made by Chinese leading scooter company Znen Motor. Znen Motor is the brand name, but the original name of this company is ZhongNeng Vehicle Group Co. Ltd. Znen Motor Company became more popular all over the world for the manufacturing of luxurious scooter. Znen VISTA is one of them. Znen Motor Company also sells its products in Bangladesh as well as 60 countries of the world. Znen Motor is also a popular brand in Bangladesh for their premium quality products.
Design and Looking
The design of the scooter Znen VISTA is so cool and attractive. Znen VISTA is available in three different colors like Red, white and blue. The bike has a windshield. It also has a wider footrest panel. The scooter has V-shaped steering which will help you comfort and easy riding. This scooter also has a luxurious and wider dashboard. You can carry your regular size helmet, raincoat, gloves, and other accessories to the spacious boot under the seat. The seat of this scooter is segmented for rider and pillion.
Engine Specifications
Znen VISTA has a powerful 4 stroke single cylinder petrol engine. The engine of this scooter is air-cooled and it has an extra air cooling fan on the right side of the engine. The engine of this scooter can produce a maximum power of 13.1 kW @8500 rpm and maximum torque of 13.1 Nm @3500 rpm. You will get an automatic clutch in this scooter as well as an automatic gearbox. The scooter gets both an electric and kick starter. The engine has a compression ratio of 10.6:1. The total displacement volume of this engine is 149.6 cc. This powerful engine will give you better performance with no noise.
Mileage and Performance
You will get maximum mileage of 37 km and a maximum speed of 122kmph. The engine of Znen Vista scooter humming silently like the engines of Honda. This scooter has a stylish sitting position both for rider and pillion. You will never feel lags for the powerful engine of this scooter.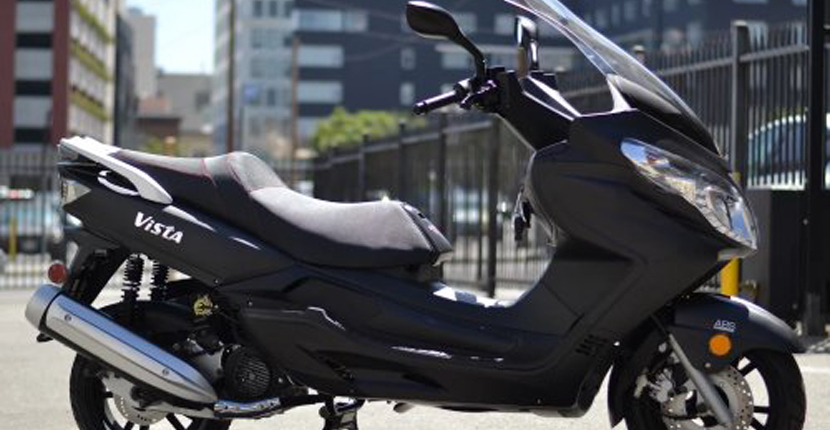 ​​​​​​​

[--12/8 Width--]

Brakes, Tyres, and Suspension
The scooter gets disc brake in both wheels which will help you for good control of this scooter. The scooter has two anti-explosion tubeless tyres. The wheels of this scooter are made of Alloy. Both wheel size of this scooter is 130/60-13. The telescopic suspension is used in front of this scooter. You will get real fun during the ride of this scooter.
Electrical Features
This scooter gets a stunning look for its wider and luxurious dashboard panel. The dashboard panel contains an analog speedometer, tachometer, gear indicator, and low fuel indicator. This scooter gets dual Halogen headlight which provides clear vision at night. The scooter also has a 12 V maintenance-free battery, turning signal lamps, LED tail lamp and low fuel indicator bulb. But the most important thing is that the scooter has some extra features like an mp3 player, mobile charger, SD card reader and two speakers under the dashboard panel. You can also enjoy FM radio in this scooter.
Conclusion
The design of the scooter is so luxurious that every scooter lovers will fall in love at first look. The scooter also has a safety feature like the engine of this scooter will never start when the side stand is down. The engine will shut down if the side stand accidentally goes down during the riding period. The scooter has an affordable price tag of is very clear and I think this is the best scooter in this price range. You will get real fun and luxurious look in this scooter.