Yamaha Motorcycle has recently released an all-new Yamaha NMAX 155 scooter which is equipped with the ABS braking system. The new 2018 model of the scooter Yamaha NMAX has come from Indonesia and next possibly come in Bangladesh. Accordingly, here I am trying to give a feature review on Yamaha NMAX 155 ABS 2018 to represent you with the featured profile of the luxury scooter. Hence come and join with our review on the scooter.
General Feature
The Yamaha NMAX 155 has been updated as a luxury scooter from Yamaha. This large dimension scooter has been borrowed from Yamaha MAX deluxe scooter series. The NMAX has launched the first time in Indonesia in 2015. Later the model exported to other Asian countries along with Australia. Having good design and compatible features it has gained huge popularity and grabbed a notable sales figure both in house and foreign. In a sequence of the success, the new 2018 version of NMAX 155 comes with more updates and trendy features.
Designed and Style
Yamaha NMAX 155 ABS 2018 is quite distinct and different models from any other Yamaha Brand's Scooters. It has a robust dimension as it is a scooter and possesses a regular street motorcycle like a wheelbase. It has 13-inch wheels as it is the length of the scooter also is quite similar to regular motorcycle even. The length of the scooter also is quite similar to regular motorcycles even. Hence you can understand it's a big size scooter at its looks & design. The NMAX 155 is much bulky and bloated in design from top to bottom. It completely skinned & covered with glossy and matt plastic panels.
Headlight and Electricals
The headlamp of this Yamaha NMAX 155 is very much gorgeous and attractive. It gets an LED headlamp including an eyebrow like LED DRL. After the headlamp, there are two big sizes turning indicator just matted on the body panel. Altogether in dark, it looks like an X-shaped head of an alien beast. Coming to the rear part here again everything matted with panels. The rear suspension along with tail-lamp looks very a1ggressive and very dashing. Hereunder the seat, it has around 23 liters of storage capacity compartment.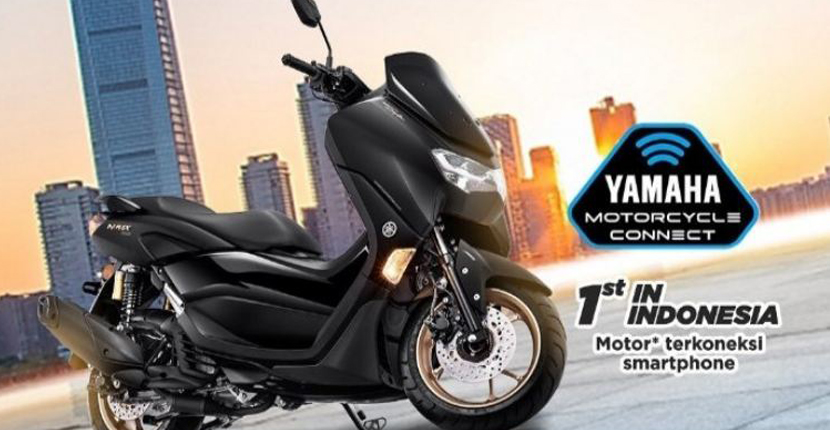 [--12/8 Width--]
Wheel-brake-suspension-system
Its wheel, brake, and suspension system are very attractive and very dashing. The scooter possesses a 13-inch wheel with alloy rims that make the bike attractive than others. Here tires are much fatter with 110mm in front and 130mm in the rear. Coming to the braking system it's much more updated with features. Here both wheel brakes are hydraulic disk type. Both the wheel and tyres come with the same diameter those are 230mm.
Handling & Controlling Characteristics
Yamaha NMAX 155 is an exclusive urban scooter and it is a standard street motorcycles like size and dimension. It comes with larger wheelbase comparing with other commuting scooters. So, in riding, handling and controlling it allows more confidence and freedom than conventional scooters. In terms of riding & handling the bike is very smooth and very much enjoyable in riding. You will get unique feelings while you will ride this bike.
Relaxed Seating & Riding Mode
Coming to the riding and seating arrangement it's completely an upright arrangement. But the most attractive part of this arrangement is it also allows different modes of seating and riding. The seat of the scooter is a large and spacious unit. It's narrower at its front and wider toward the back. H. But when in tight traffic, moving front on the narrower part it's very easy to handle the scooter. Hence, it's handling friendly even for the lower height riders.
Conclusion
The kerb weight of this bike is 127 kg for this; it can easily touch its maximum speed within a very short time. Secondly, the Blue-Core feature with VVA also ensures a notable figure of fuel economy. Overall, it will be your wise decision if you choose this bike as your dream bike. So don't be late to try to buy this bike and enjoy better riding.