Yamaha has a intend to make their users happy and fully satisfied with their fascinating product. Based on their trend the Yamaha FZ serveries set a benchmark for the bikers; it has been the gold standard for the 150-cc sporty commuter. For the next level of bike production, FZ Series started its journey along with the flow of time it has changed its colors, technology, and style. Nowadays Yamaha offers to us the most advanced Blue core concept, Fi engine, muscular size and eye-catching color combination in one bike named Yamaha FZ-S Fi V3
Powerful Fi Engine
The all-new FZ-S Fi V3 model is got a powerful Fi engine and it is; 149 cc Air-cooled, 4-stroke, SOHC, 2-valve single-cylinder, fuel-injected engine. This engine can produce 13.2 bhp @ 8000 rpm and max power and 12.8 Nm @ 6,000 RPM max torque. The compression ratio 9.5:1 is set for this bike and constant design, the 5-speed gearbox has been placed to run this engine. But there is only one objection that it has only an electric starting option is placed to fire up the engine.
Chassis and Dimension
All the kits and parts of Yamaha FZS Fi V3 are made over a diamond type chassis. The new version of V3 offers us a new dimension as well. For this bike, the length of this bike is 1,990 mm and 780 mm width while the height of this bike is 1,080 mm is given. The seat height is very low to sit on it and it is 790 mm and the wheelbase is 1330 mm. The maximum ground clearance with the extraordinary riding experience of this bike is 165 mm. With oil & a full fuel tank, the bodyweight will be measured as 148 Kg of this bike.
Comfortable Single piece seat
The previous model has offered Split seating, but this model has a Comfortable Single piece seat but it has also shaped like two-level seats. Larger and wider size along with high quality makes the seat superb fit to provide a steady and comfort for both the rider and passenger. The bike has new glossy chrome plating and it has been positioned in selected parts of FZ-S Fi V3, they create a premium, exclusive image and enhances the street presence of this motorcycle.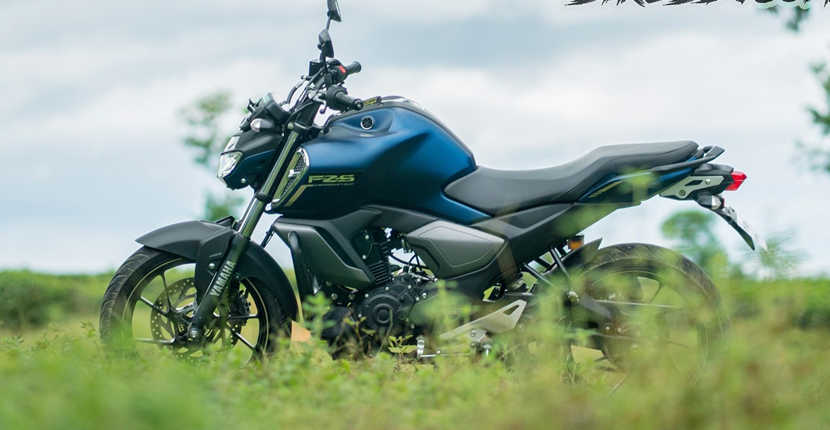 ​​​​​​​
[--12/8 Width--]
Front ABS & Disc Brake
Lower engine fairing with the powerful framework and it has been introduced with this new model of FZS for reducing MUD and Dirt splatter. The under-cowl of this bike has been designed for enhancing the sporty look of the bike as well.
LED Headlight and Electrical
Robotic face new LED headlight has been used through this bike and it provides excellent visibility and eye-catching appeal. It comprises a reflector with ideal light projection, along with separate bulbs for high and low beam. Without that the bike has 12V, 5W x 1 auxiliary light, 12V,21/5W x 1 tail lamp, while the turning signal lights are 12V, 10W x 2 and all are seen at this bike. For operating all thee electrical features maintenance-free 12V battery is placed.
Tyres and Wheels
New FZ-S V3 gets a 110/80-17 at the front while the rear one is 140/60-17 radial tyre. They offer high resistance to the undulated road and they deliver great fuel economy and grip on the road surface. Because your journey with this motorcycle will be hassle-free and full of safety. They bring the unmatched experience of performance and efficiency level with their new version of the FZ series.
Conclusion
There are three new colors are available of this
bike and those are Matt Blue, Matt Black, and Gray Cyan Blue. You can easily choose one of them. In my perception, the Gray Cyan Blue is the best color combination for this bike. After evaluating all the salient features, it can be said the next generation of FZ series is here and it is ready to fire up the roads.