YAMAHA FZS Fi V2 is a sports type bike that is manufactured by the Japanese motor company. Sometimes the parts of the motorcycle are imported from japan or often time the bike is imported from there. Yamaha is a very popular bike manufacturing company as well as other motorized products. Yamaha FZS Fi V2 is a wonderful bike with handsome body graphics. You will get this bike in different colors like Matte green, Armada blue, night, knight red, opal white, lighting Cyan and Hurricane Gray. The motorcycle runs like a hunter. It will give you the feeling as like as you are a hunter.
Engine Qualities
In this bike, the Yamaha company used a powerful 149 cc 4 stroke single-cylinder engine. This engine is air-cooled. You will get maximum power 13.2 PS at 8000 rpm and maximum torque 12.8 Nm at 6000rpm from this engine. This bike has 5-speed gearboxes. The bike will allow you to get the only self-start system instead of the kick-starting system. A cool feature of this bike is Transistor controlled ignition system. The bike has a compression ratio of 9.5:1. You will get a fuel capacity of 12.8 L which will help you with the long drive with your friends.
Chassis and suspension
The bike is a naked sports bike that contains a diamond chassis. But the most important thing is; the body with graphics design of this bike makes the bike much beautiful and easily there will create a scope to attack most of the bike lovers. You will get telescopic front suspension and swingarm rear suspension. So, riding of Yamaha FZS Fi V2 bike is more comfortable for you. The comfortability of this suspension system is the beggar description.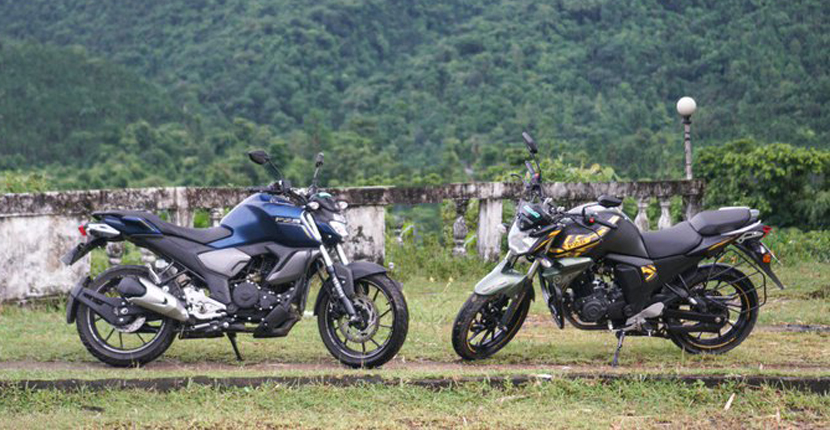 [--12/8 Width--]
Mileage and Performance
Yamaha's engineer uses Blue core Technology to improve the mileage of this bike. You will get maximum mileage of 53 kmpl and it's amazing. The most important thing is you can reach the speed of 60 kmph within 5.97 sec and 100kmph in 10.77 sec. As a sports bike, you will get the maximum speed of 103.33 kmph from this bike. You can ride a quarter-mile path within 20.35 sec @ 100.37 kmph. This bike has a total weight of 132 kg which will help you in good control and safe driving.
Brakes and Tyres
You will get a trustful braking system on this bike. You can stop this bike within 2.84 sec from the speed of 60kmph and it will take a 20.48m runway. You can also stop this bike within 3.66 sec from the speed of 80 kmph. So, the braking system of this bike is cool. Disc brakes are used in both wheels. Tubeless tyres are used in this bike. Both of the wheel sizes is 17 inch and the wheels are made of Alloy.
Electricals and Instrumental Panel
You will get a fully digital meter in this bike which contains a speedometer, tachometer, clock, low fuel indicator, etc. You will get LED headlights in this bike which will give you a clear vision at night. This bike has a 12V 4Ah maintenance-free battery. The lights of this bike are very much attractive and powerful so that you can ride it well even in the night.
Conclusion
This bike is really good for the young sports bike lover. The body graphics of this bike is cool. Anyone will attract to the bike at very first look for its cutting-edge sharp design. This bike also has an affordable price tag of BDT 2,49,000. The riding performance of this bike is really good.