Haojue DR 160 is the stylish sports bike in Bangladesh as Haojue is a reputed Chinese brand. The parts of this bike have been imported from China but assemble in Bangladesh. Even though it is a Chinese bike but the performance of this bike is comparatively better than most Chinese manufactured bikes. This bike may change your impression about a regular 160 cc bike and make you feel extraordinary while you are riding on it.
Feature of Bike
Haojue DR 160 has got the dashing cutting-edge design-build by Haojue. It has a dashing attitude, bold design that can attract anyone. It has a fuel tank that is perfectly adjusted with the body and it can hold at least 12 litres of fuel. LED tail lamp, and stunning robotic headlight, unique Multi-spoke; alloy wheels, gives it sporty look. The instrumental panel is quite different from other ones and fully digital and informative and it has all the essential features on it. This bike has a swing arm and this is a little bit shorter. Its sitting position gives comfort both for rider and pillion. Engine cowls design makes the bike more dashing and classic as well as looks dynamic and sharp.
Engine Performance
The bike consists of 162 cc powerful engine along with Single cylinder, 4-stroke, SOHC engine which can claim 15 Bhp max power and max torque 14 Nm, this is enough to make a competition with the other bikes. The bike has total six-speed gearbox and that is mated with the engine for better transmission and the suitable oil grade of the bike also very well. Well-made exhaust may help you to give better engine sound and best durability.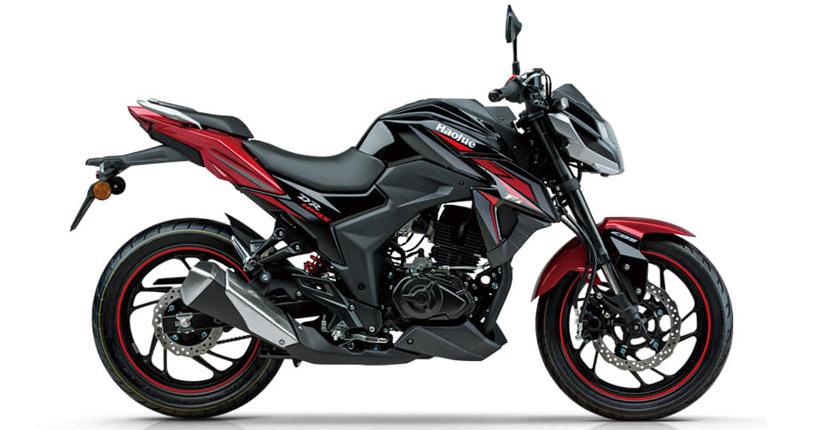 ​​​​​​​

[--12/8 Width--]

Suspension and Seating Position
The seating position is quite enjoyable and comfortable to ride on it. Split-type dashing handlebar and curve, dashing position seat give this bike sporty look rather than another Haojue bike. Haojue DR 160 has a standard height, width, and length to ride on in perfectly. The seat height of this bike has comfortable and ground clearance and these are really good. The front and rear suspension are also very well and the suspension quality makes the bike more dashing and fascinating.
Dimensions and Brakes
The upside dimension is quite similar to the downside dimension that makes the bike regular in shape and size. The braking system is quite standard and that may help you to face any uncertainties on the rough road. It provides a good balance and comfort to all the riders. Petal steel disc brakes have been used in front and rear both wheels. As a result, you may get the safety and better riding experience.
Safe and Smooth Riding
You will able to make a short or long trip with this bike because this bike may give you the best riding experience and you may find the safe journey even on the undulated road. Personally, I will give the 5 ratings out of 5. And I am also recommending you this bike because of its dashing and premium performance. You are most welcome in advance for buying this type of bike for your dream bike.
You can easily fulfil your dream by this bike. You just buy this bike and make your journey more comfortable and more enjoyable.