Aprilia is a top-level dashing and stylish motorcycle manufacturer worldwide, which brand origin, is Italy. Earlier it was an inclusive bicycle manufacturer, and then it moved on to manufacture scooters and small-capacity motorcycles with full of fantasy and others fashionable specifications. As a brand Aprilia is the first choice of all sport bike lovers who love to participate sport competition, or who are the fashionable biker's even professional daily motorcycle riders also like Aprilia.
Aprilia RS4 125
Aprilia RS4 125 is an entry level sport bike from the Italian manufacturer that draws attention the bike lovers. It carries the design elements from the litre class RSV4 and stays below 125 cc to enjoy the A1 licensing norms with full specification. It comes with 124.2 cc, 1-cylinder, four stroke engine producing 14.8 BHP and 10.9 Nm of torque at the relevant rpm. The 6-speed gearbox equipped motorcycle weighs just 120 kg and carries the best in class looks with classic features.
Design
This is a sport bike with distinct features. The red spot on the dark background creates some exceptional beauty to this bike. The heavy bodied motorcycle fit for person of all heights. The red color spot on the head of the motorcycle makes it more attractive and English alphabet 'a' is placed on the suspension body of this bike that is really eye-catching one.
Engine and Transmission
The engine displacement is 125 cc that is too small to complete for sports events. It has a liquid-cooled engine and the engine feature is four strokes with fuel injection system. The maximum power is 14.8 BHP @ 10500 rpm and the maximum is 10.9 Nm @ 8250 rpm. Multiple discs are used as for clutch. It has 6 numbers of gears with 5-speed gearbox.
Fuel Tank
The big but stylish fuel tank is used to this motorcycle and the logo of Aprilia brand is placed on the fuel tank that is really beautiful. 14.4 litres are the fuel tank capacity of this bike along with the facilities of 3.4 litres reverse fuel tank capacity. Petrol is used as a main fuel to this Aprilia RS4 125 motorcycle.
Seat and Suspension
The seat of the motorcycle is very stylish and smart. The front part of seat is comfortable and bit downward than the rear seat. But one this seems awkward to me. The rear seating place is too small to sit on. Both of the suspensions are asymmetric swing ram with monoshock suspension facilities.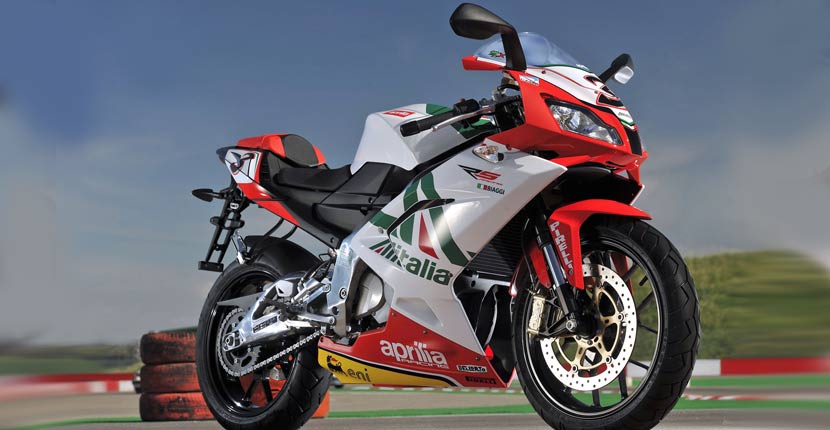 ​​​​​​​
[--12/8 Width--]

Tyres and Brakes
There is an amazing fact, both of the wheels and tyres are made of alloy. This thing makes the motorcycle quite unique than others. The wheels and tyres size are 17 inch. Both of the brakes are made of single disc with relevant number of calipers. This hydraulic type brake will help you to face any uncertainties in the road.
Features and Safety
The bike has analogue type of tachometer system. Low fuel and low oil indicators are used through this motorcycle. The bike has clock and engine killing switch also. It will give you the pillion footrest facilities with shift lighting system. This is matter of sorrow that there is no Antilock Braking System (ABS) in this bike.
Riding Experience
The riding experience of the Aprilia RS4 125 is really amazing and unbelievable. The rider will get extra comfort for this stylish seating system and fascinating suspension quality. The handling facilities will also give the exceptional experience of bike riding to the bike lover.
Conclusion
I think, this will be your best choice, if you select this motorcycle as your dream bike. You will get full facilities and extraordinary riding experience through this motorcycle. This will help you to make your bike journey free of hassle and full of fun.